Time Travel Bitches - Baroque Bitches on the Road
In "Time Travel Bitches - BaroqueBitches on the Road" you will experience hazardous time travels through all imaginable baroque universes and listen to breathtaking opera duets - wrapped up in plenty amounts of tulle, corsage, jokes and tears. The BaroqueBitches will fight, make up and do, whatever a BaroqueBitch does.Full evening opera performance show with a twist.Claudia Roick - Voice, Violin,Nicole Tschaikin - Voice,Dennis Weijers - Accordion.Suitable for small and bigger stages.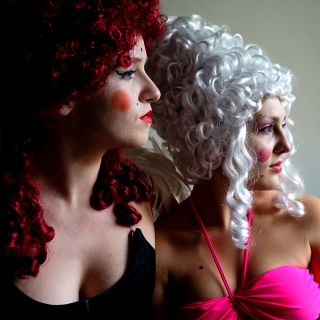 The BaroqueBitches are a performance act of classical music with a twist. Their goal is to bring opera to most uncommon places. If street, bar or bathtub - they will reach out to a new audience and give them the possibility to experience classical music without pressure and etiquette.