Dixieland, Vintage e Street Jazz
O melhor dos Cottas Club é a sua mobilidade, a interacção com a audiência, o entusiasmo da natureza das suas interpretações cheias de humor, quase num estilo de stand up comedy. Em todos os seus espectáculos, o grupo presenteia a audiência com as suas indumentárias exemplares e um constante bom ambiente.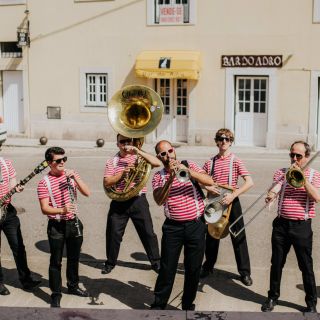 Cottas Club Jazz Band are focused on Dixieland (or Traditional jazz), the sound from New Orleans - the home of jazz. This also is reflected in the instrumental make-up of the band: trumpet, trombone, saxophone, clarinet, banjo, sousaphone and washboard.