Partneracrobatics / Contortion
Bei Partnerakrobatik trifft Kraft und Power auf Beweglichkeit und Eleganz. | Contorsion ist die'Kunst des Verbiegens' in Kombination mit Eleganz, Balance & Mystik. | Meine Vertikaltuch oder Luftring Show ist atemberaubende Luftakrobatik in einer Höhe von 3 bis 10 Metern möglich. | In meinem Handstand sind Konzentration, Ästethik &Beweglichkeit vereint. Außerdem biete ich noch Tanz, Hula Hoop & Modeling an. Sehr gerne stellen wir Showacts passend zu Ihrem Event zusammen.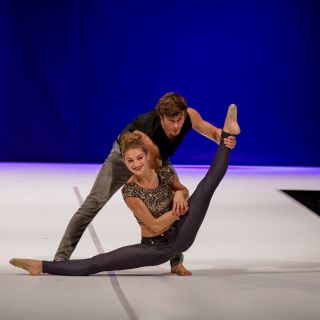 Hi! I am Dani, 21 and artist. My references include GOP, .Varieté Munich, Bogner, Porsche anniversary, Fujitsu,... In addition, I have long worked in Ibiza with coYma. In the rhytmic gymnastics I am a 4-times Obb champion and trained 2 years in the national squad.