JAGO & L-ION can perform fire shows, from a romantic and elegant show for a wedding to something wilder for private events such as birthdays, (theme) parties or corporate events. Each performance is choreographed to the point with high skills in "flow-arts", dance and acrobatics, a theme or story and various fire elements with a big finale of pyrotechniques or effects. Moreover, expect a huge variety of costumes which add the final touch to the theme or topic of your event.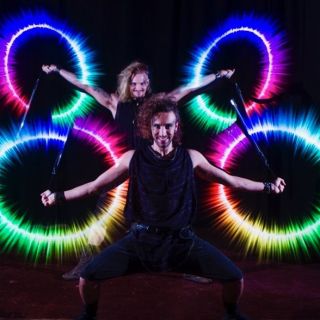 Köln - Cologne, Germany / Ibiza, Spain
We, JAGO & L-ION are an artistic duo, Berlin-Ibiza based. We love to bring the final touch to an event - creating costumes and characters on stilts, performing choreographed fire & LED shows, a solo Hoop act or group shows - all including dance and acrobatics.