Cabaret artist and corporate entertainer JAGO will seduce you into the world of TANGO - stylish, elegant and sexy at the same time - showing skillful circus-style hooping tricks combining dance, acrobatics and flexibility ! Enjoy this choreographed multi-hoop act and tap your feet to tunes from saxophone to dubstep - variety style! This act can also be performed using the incredible flashy LED - Future Hoops!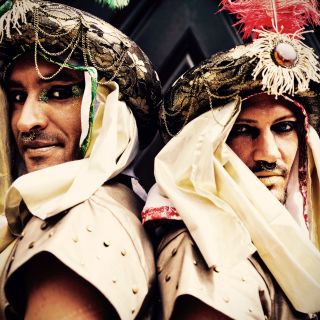 Köln - Cologne, Germany / Ibiza, Spain
We, JAGO & L-ION are a german-spanish artistic duo, Köln-Ibiza based. We love to bring the final touch to an event - creating costumes and characters on stilts, performing choreographed fire & LED shows, a solo multi-hoop act or group shows - all including skillful dance and acrobatics.