JAGO & L-ION perform a LED show, both magic and futuristic at the same time – visual arts without limits. A perfect alternative for any kind of event where fire is not possible or desired. With programmable LED technologies of the latest generation, any name, date, picture or logo can be personalized and displayed. Ideal for parties or corporate events. A huge variety of costumes combined with acrobatics and synchron choreographies - it is a perfect blend of an elegant and futuristic touch.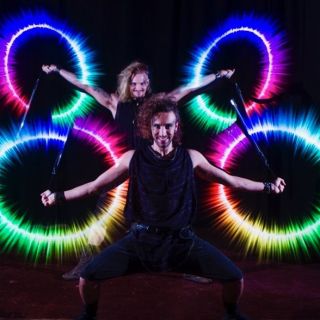 Köln - Cologne, Germany / Ibiza, Spain
We, JAGO & L-ION are an artistic duo, Berlin-Ibiza based. We love to bring the final touch to an event - creating costumes and characters on stilts, performing choreographed fire & LED shows, a solo Hoop act or group shows - all including dance and acrobatics.