Combo: Hula Hoop Performance + Mini Workshop
Impress your guests with a fabulous Hula Hoop Performance, and give them the chance to try hula hooping! I offer a hula hoop show (several performances up to 10 minutes) and a mini workshop (15 minutes or longer if requested!). Suitable for everyone with a playful, joyful & openminded spirit!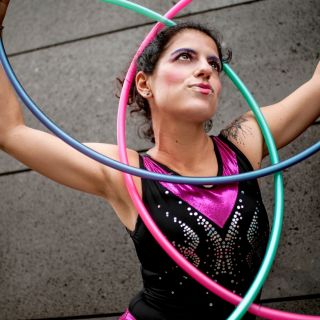 I am a urban Hula Hoop performer, and Hoop Dance instructor. I offer Hula Hoop LED performances, colorful hula hoop acts, multi-hooping shows, and hula hoop workshops. I´m originally from Sardinia, and I live in Berlin. I love hooping, traveling and sharing hoop love all around the world!