Unsere Musik - Instrumental oder mit Gesang
"It don't mean a thing, if it ain't got that swing." Mit Maximilian Höcherl am Mikrofon und am Waldhorn und dem Max Meinhardt Trio als Instrumentalisten bleibt kein Fuß mehr ruhig stehen. Wild-fröhliche New Orleans- und Dixieland-Passagen, melancholische Gypsy Swing-Momente gekrönt von packend-eleganten Gesangnummern im Stile Frank Sinatras. Die vier Münchner Musiker streifen durch alle Etappen der Swing-Ära und scheuen auch nicht davor zurück, aktuelle Pop-Songs in Ihr Repertoire aufzunehmen.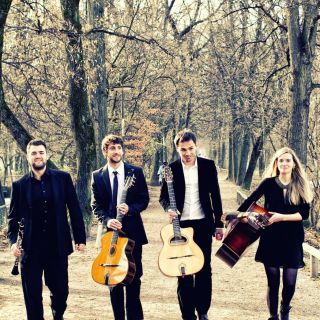 München - Munich, Germany
The ensemble celebrates the legacy of the Hot Club de France with Gypsy Jazz style icon Django Reinhardt: Traditional gypsy swing combined with influences of other styles (bossa, tango, world music). Whether as background music or as highlight of the evening, we promise an unforgettable atmosphere.