High Class Live Acrobatic
High Class Handstand acrobatic Show - Show length 7 minutes. + extra. Ideal for corporate events, car shows & presentations, ladies nights & night clubs. Stage size needed minimum 3 x 3 metres, ceiling height minimum 2.7 metres. Based in Berlin, performing worldwide. Over 12 years professional artist on stage - performed in New York, Tokyo, Paris, Zurich, Vienna, Berlin... Grand performances in 16 international TV Shows. First class pictures for advertising and publicity available.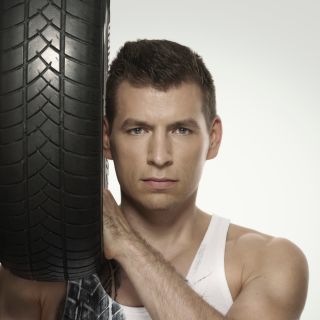 Robert Choinka is a distinctive original. In addition to an acrobatic performance, his show is distinguished by its exceptional character. Pure engine oil flows through his veins, in the role of macho mechanic he performs with arrogance bordering on serenity one armed handstands on tyres.