Living Statues - Ebenezer Scrooge
Christmas is not Christmas without this Charles Dickens character. Here you can see Scrooge sat at his desk working out his accounts and not feeling very festive, as music plays adding to the Victorian atmosphere.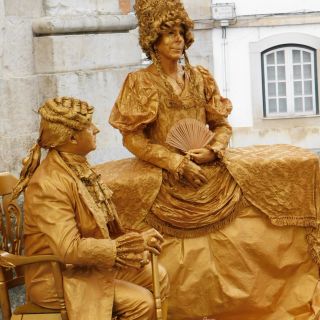 Tomar, Santarem, Portugal
Live Statue Artists with a variety of acts available for events. Roman Banquet, Peace & Love Picnic, Marie Antoinette & Louis XVI, Biker and his babe are some of the acts available with interesting props and effects. Take a look , we may have just the scene you are looking for.