Living Statues - Passion with no Limits
Biker and his Biker babe out on the highway astride their low rider which comes complete with sound effects, rock music and light effects. All in metallic gold and black, they amaze the crowd with their statuesque poses and bring smiles to the faces with their fun moves.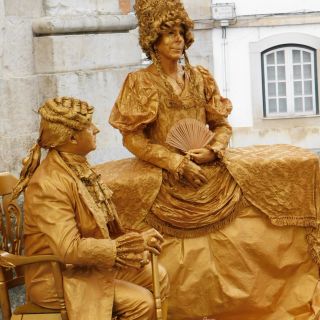 Tomar, Santarem, Portugal
Live Statue Artists with a variety of acts available for events. Roman Banquet, Peace & Love Picnic, Marie Antoinette & Louis XVI, Biker and his babe are some of the acts available with interesting props and effects. Take a look , we may have just the scene you are looking for.