Eine anmutige Artistin zeigt verblüffende Kontorsionsakrobatik auf einem Tisch bis sie unerwartet jemanden aus dem Publikum oder Personal mit auf die Bühne holt. Der vorerst unwissende Gast entpuppt sich als Naturtalent: Es entwickelt sich eine charmant-komödiantische Akrobatikshow mit beeindruckender Kraftakrobatik, verdrehter Kontorsion und dynamischen TumblingElementen. Die Charaktere können individuell auf den Rahmen ihrer Veranstaltung angepasst, im Vorfeld unter ihre Gäste gemischt werden.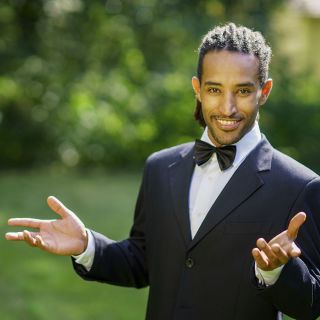 Bad Tölz / München - Munich, Germany
My name is Solomon Solgit. I'm performing various acts, including: Slack Wire, Bouncing Juggling, Innovative Solo Fire Show and Duo-Acrobatic. With my newest show material, I can perform my acts in any kind of stages.