Expressive ball - Juggling and dance show
My solo piece "Entropía" contains 99 balls and is a virtuoso, minimal, meditative, ecstatic, metaphorical juggling solo in a melancholic atmosphere mixed with glimpses of hope. People are laughing and smiling seeing it, because the juggling takes over and juggles the juggler.Beside this I'm open to any kind of challenges: you have a special theme or a special location? I'm sure I'll be able to fill this tasks with intelligent solutions!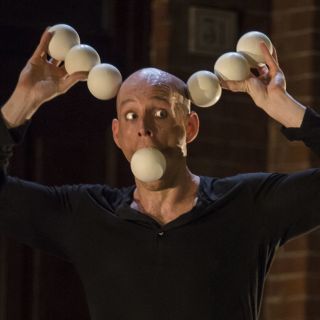 I'm a contemporary ball juggler. Beside creating "aaahs and ooohs" in the audience my aim is to use the juggling as a language to express emotions and atmospheres. My performances are very physical, minimalistic, pure (mostly without music), metaphorically and ironically funny.