Marie Chain is a Berlin based funky Pop-Soul Band around lead singer, piano player and songwriter Marie-traveler songs for dreaming and dancing. At the age of 5 she started to play piano and received vocal training. Inspired by Soul/Blues musicians of the 50´s/60´s and her travels around the world.
We are a seven piece band and we want to entertain you with our songs inspired by traveling around the world, life experience, storytelling music for dancing and dreaming. We are inspired by Pop, Soul, Blues and Funk music and created our very own style. If you wish we can play Soul/Blues/Funk cover music too.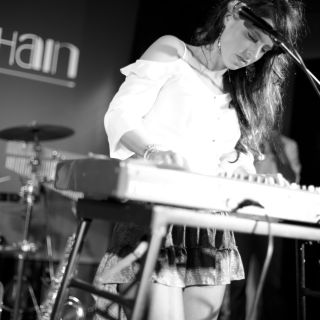 I´m a soul singer, piano player and song writer. With my music I´m traveling around the world. My music is inspired by stories written by life. I´m playing music since the age of 5 inspired by Soul/Blues/Jazz musicians of the 50s and 60s. My program is a mix of my original Pop-Soul songs and Pop/Soul/Blues covers in my very own way. I´m singing and accompany myself at the piano. I´m a story teller.