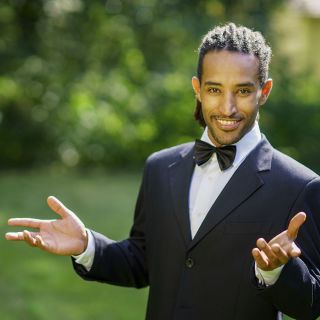 Bad Tölz / München - Munich, Germany
My name is Solomon Solgit. I'm performing various acts, including: Slack Wire, Bouncing Juggling, Innovative Solo Fire Show and Duo-Acrobatic. With my newest show material, I can perform my acts in any kind of stages.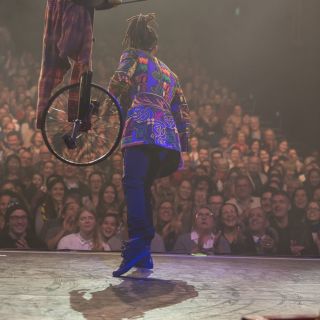 Sensational wire acrobatics with or without talk show. When trying to escape gravity, Solomon Solgit represents the art of modern tightrope walking with amazing body control. Solomon can ride a unicycle, balancing on a tightrope - and, as if that were not difficult enough, let's add juggling performances. And when this isn't high enough, let's add a ladder on the wire... This act is taking 5 to 7 min or 15 min with a talk show.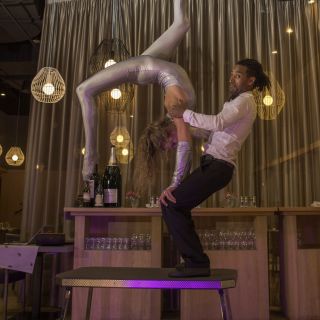 Eine anmutige Artistin zeigt verblüffende Kontorsionsakrobatik auf einem Tisch bis sie unerwartet jemanden aus dem Publikum oder Personal mit auf die Bühne holt. Der vorerst unwissende Gast entpuppt sich als Naturtalent: Es entwickelt sich eine charmant-komödiantische Akrobatikshow mit beeindruckender Kraftakrobatik, verdrehter Kontorsion und dynamischen TumblingElementen. Die Charaktere können individuell auf den Rahmen ihrer Veranstaltung angepasst, im Vorfeld unter ihre Gäste gemischt werden.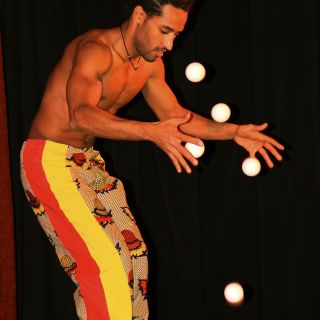 Eine für das menschliche Auge unzählige Anzahl an Flummis hoppeln zwischen Boden und Händen von Solomon Solgit in unterschiedlichen Mustern hin und her. Solomon vermischt das Bouncen mit dem Jonglieren. Die Show dauert 7 Minuten und kann auf Wunsch verlängert werden.