Streetshow "Sally & Kelly"
Funny streetshow with a high level of clowning and artistry and many many hoops. Sally has prepared a fantastic show, only Kelly does not know much about it yet. They bring many Hula hoops with them and start to do nonsense. They bite and kick Hula hoops or get stuck in them. Beside the hilarious clowning, they present 2 solo and one duo act with high artistic skills and surprising singing performance. Lenght: 30 minutes. Actors: 2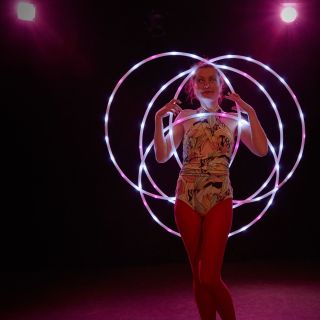 Kristin is a Berlin based Hula Hoop artist. Her portfolio is very colorful: from spectacular LED Hoop Act with 5 glowing Hula Hoops to poetic contemporary Hoopdance to funny streetshow.