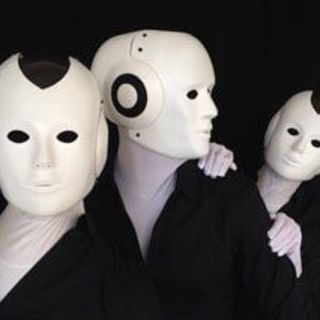 Robot and Mime Performance from Berlin. - Humanoid Robots - Visual Comedy, Comedy Butler, Comedy Bell Boy - Mobile Photobooth - Robot Puppets For events, trade exhibitions and festivals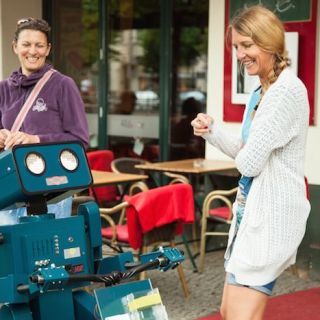 Hugo is an interactive remote controlled robot puppet that talks to the guests. He drives on events, fairs and festivals. The cute robot can sing a lot of songs and has got a large "database". From this it can retrieve useless knowledge or switch to "philosophize-mode". What's better than one LED? Many LEDs! Hugo's eyes, mouth and chest display are built from many small LEDs . Clearly, this robot raises retro feelings!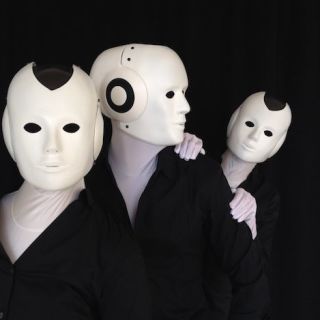 Living humannoid robots float through the space switching their direction and dynamics from high-speed to slow-motion. The crowd wonders whether "human or machine?" and it seems impossible to take the eyes off these charismatic entities. "Maschinenmenschen" ("man machines") move like real human robots. They are charming kindhearted sometimes in love and very playful. Many guests like to have a picture with them.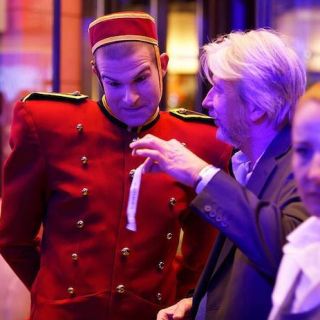 They are Gentlemen, they are players, they are clowns. With the prestidigitation of a magician and the charm of a barkeeper these guys interact with the guests and keep them comfortable. The Mime Gentlemen raise the value of the guests: Keep the door open, spread a mini red carpet, give nonverbal compliment and escort to the wardrobe. Mime play with the audience and are masters of improvisation. They accept situations and create new stories and pictures.